Seniors' Services to Know About
Austin Prime Timers is the local
Austin Gay Men's social and support group.
Prime Timers meets monthly on the second Sunday. Many other social events are also scheduled throughout the month.
Link to the Austin Prime Timers website
---
SAGE is the national organization for LGBT seniors, click link:
---
Aging Services Council of Central Texas Caregiver Guide.
Here's the link to a webpage which includes the Ride Guide and the Aging Services Council Fact Sheet.
This link is on the Aging Services Council website.
---
Area Agency on Aging
"Navigators"

The Area Agency on Aging of the Capital Area (AAACAP), a division within the Capital Area Council of Governments (CAPCOG), provides quality services to support the health, safety, and well-being of older individuals in the 10-county Capital Area.
AAACAP contracts with other agencies to ensure the availability of services such as transportation, nutrition, homemaker and senior center operations. In addition, it directly provides Referral and Assistance services, through the system of Access and Assistance program, Benefits Counseling, Long-term care and Assisted Living Facilities Ombudsman services, Care Coordination and Information. The area agency also provides services to caregivers under the National Family Caregiver Support Program.
AAA offers access to "Navigators" who can help
with the complexities of finding services.
Ironically, there are so many services for old adults
that it is VERY difficult to find them.
AAA of the Capital Area will assist.
888-622-9111 Ext 6062
---
State of Texas Health and Human Services
Long Term Care Provider Search
---
Austin Age-Friendly Action Plan:
Executive Summary
The LGBTCOA participates in the various workgroups described in this document
Click the link to download the file:
Age Friendly Austin Action Plan
---
AustinUp is fiscal sponsor and partner
of the Austin LGBT Coalition on Aging.
Their website contains a rich list of referrals and links to services.
Teresa Sansone Ferguson has been an immense help to the ALGBTCOA.
Click on the logo below to go to the AustinUp site.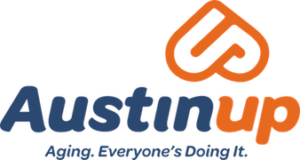 AustinUP is a community alliance committed to making Central Texas a place where older adults live full, engaged lives.
We work to prioritize the unmet needs of the Central Texas aging population, tap the assets of older adults to improve our community, and embrace innovation and creativity in the pursuit of an age-friendly culture.
What we believe:
We need to retire the word retired.
As long as our hearts are beating, we must engage in the world around us.
Older adults are an invaluable community resource, waiting to be tapped.
Our vision is to create a region that responds to aging as a dynamic rather than a stagnant force.  We are all aging, all the time. And we want to make Central Texas a place that supports each of us, at every age.
Because our community is changing – and it's not just how you think.
Link to AustinUp Resources List