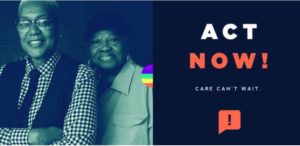 Religious discrimination has the potential of putting millions of LGBT elders at risk.
We're building support to fight back, but we urgently need your help. Please sign our pledge and stand with LGBT elders in the face of religious discrimination.
Through arguments made in the Supreme Court's Masterpiece Cake case, as well as the creation of the Conscience and Religious Freedom Division at the Department of Health & Human Services, the Trump administration is attempting to give businesses and medical providers a license to discriminate.
A license to discriminate based on religious preference could have especially devastating consequences for older LGBT people, as the vast majority of elder care providers available are religiously- affiliated organizations.
"If the Trump administration succeeds in its efforts to enshrine a religious right to discriminate – either by an anti-LGBT Supreme Court decision or with the slew of 'religious conscience' policies that are advancing through federal agencies, it would have a devastating impact on the LGBT community and LGBT elders," said Michael Adams, CEO of SAGE.
In response, SAGE launched Care Can't Wait, a campaign to enlist supporters to stand with LGBT elders whose care and livelihoods would be threatened by a license to discriminate.
TAKE THE PLEDGE:
I pledge to care for LGBT elders, and all LGBT people, without discrimination.
I stand with them because Care Can't Wait.
SAGE is also looking for organizations to partner with us on this crucial campaign. Join SAGE and our early partners, The American Civil Liberties Union (ACLU), GLMA: Health Professionals Advancing LGBT Equality, and the Movement Advancement Project (MAP) in saying "Care Can't Wait."
Organizations can take a partner pledge or email us in order to learn how to get involved: engagement@sageusa.org