The July 2018 Newsletter is posted to the Newsletters page.
Report on the Spring Town Hall Meeting of the Coalition on Aging with guest speaker, Dr Victor Martinez, Chair of the Austin LGBTQ Quality of Life Commission,
has been posted to the Minutes & Reports page.
Click here: Spring 2018 General Meeting
---
Read an Article about the Issues LGBT people face with Alzheimer's and Other Dementias from SAGE
[CHICAGO, August 14, 2018] – LGBT and Dementia – a new issues brief developed by the Alzheimer's Association and SAGE outlines the unique challenges facing LGBT older adults living with Alzheimer's and other dementias and their caregivers. The brief outlines the unique issues that arise when Alzheimer's disease, sexual orientation, and gender identification and expression intersect, allowing advocates and care providers to better meet the needs of LGBT elders and their caregivers facing dementia. read more…
---
Do you really want to "age in place," meaning to live by your self in the house you were in as you got old? Here's an article at Forbes Magazine that challenges commonly-held opinions.
90% Of Older People Want To Live At Home? Maybe Not
Maybe this is why we need to make sure nursing homes & retirement centers are LGBTQ-friendly.
---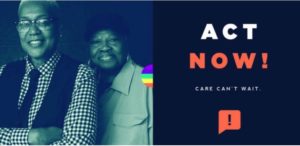 SAGE has issued an Alert about the threat of "Religious Liberty" laws to the plight of LGBTQ people
in "faith-based" nursing homes and social services:
Read more about this SAGE ALERT on our website
TAKE THE PLEDGE TO STAND WITH LGBT ELDERS on SAGE website
---

AustinUp is a sponsor of the Austin LGBT Coalition on Aging
---
NEW of interest on the Research & Links page:
Video talks about being a  Gay Tribal Elder by Don Kilhefner, PhD
---
AARP Survey Demonstrates Acute
Concerns of Older LGBT People
AARP recently completed a far-reaching survey that elevated statistics about the LGBT aging experience. LGBT elders fear discrimination in health care and are worried about coming out in long-term care facilities. Black and Latino LGBT populations have these anxieties in an even higher proportion. Perhaps the most telling statistic is that 88 percent of older LGBT people want LGBT-trained care providers. This validates the importance of SAGECare, SAGE's LGBT cultural competency training program, which has trained more than 10,000 providers in 46 states over the past year. "With this new survey, AARP has made a vital contribution to increasing awareness about the lives, challenges, and resiliencies of LGBT older people," says SAGE CEO Michael Adams. "The important work now is to do everything possible to respond to the acute needs documented in the survey so that LGBT older people have the same opportunities in their later years as all older Americans." Read more at AARP…
---
About
Austin LGBT Coalition on Aging
Our Goals
The first goal of the ALGBTCOA is to Strengthen Our Community by creating a coordinated LGBT community response, providing opportunities for people to congregate for social interaction, participating in the City's intention of making Austin "age-friendly," and encouraging informed participation in the decisions being made that affect us.
The second goal is to Encourage LGBT Sensitive Services by researching agencies regarding their knowledge and staff and caregiver training in these issues in order to find those that are sensitive to the LGBT concerns and to encourage others to provide training in our issues by making them aware of the need.
The Coalition hopes to be a partner and a resource for those serving the senior community, provide opportunities for active participation and involvement for those interested in aging issues, and be an educator and advocate for LGBT-friendly aging.
For more information, to be included in our information distribution or to join in this effort, visit our website at algbtcoa.org
If you have questions or concerns, please contact us at contact@algbtcoa.org .