Seniors' Services to Know About
click here to link to HIV & Aging Resources
click here to link to Resources related to Covid-019
---
SENIOR SOCIAL PROGRAM

Golden Generation Social Scene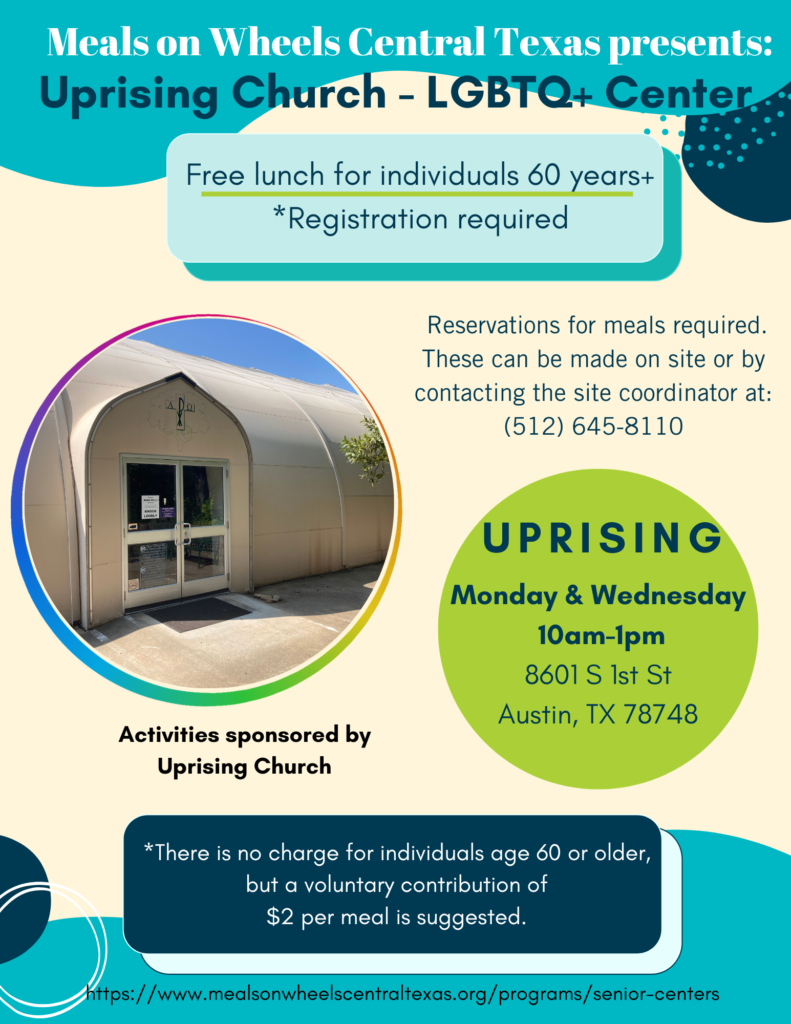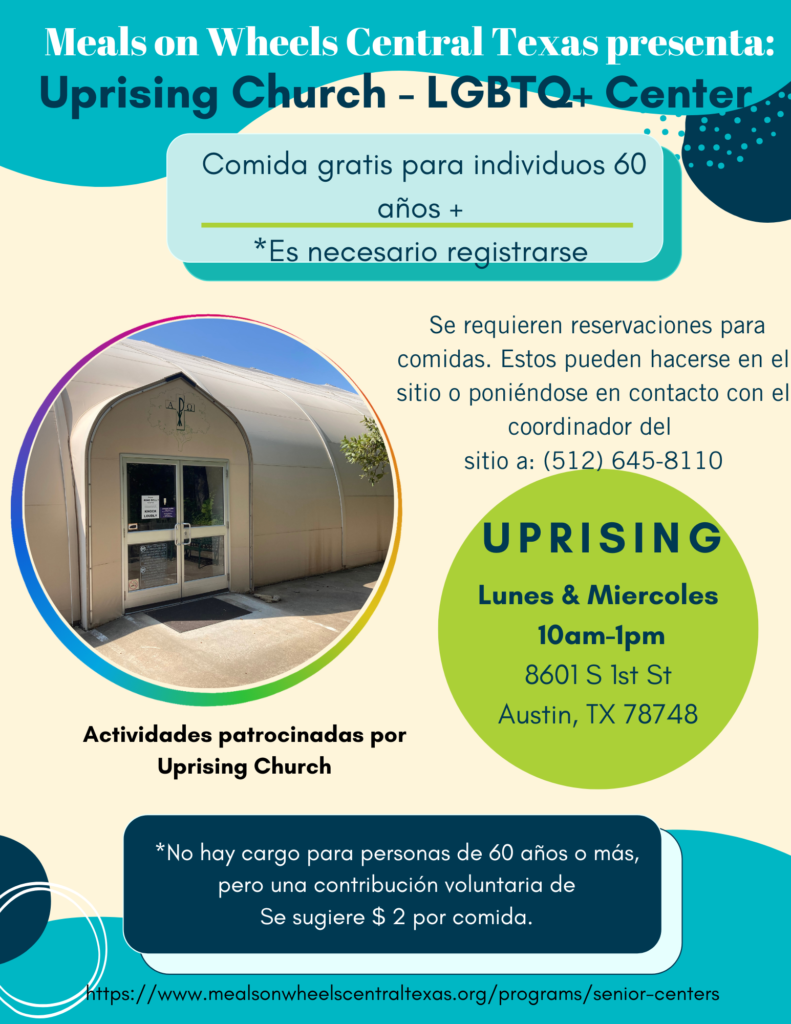 The group of regular attendees, which calls itself the Golden Generation Social Scene, gathers from 10:30 a.m. to 2:30 p.m. Mondays and Wednesdays. The free program, which is the first of its kind in the region, provides a nutritious lunch, fun activities, a welcoming sense of community for the LGBTQ population and its allies, and is open to individuals who are 60+ years of age and their spouses/partners.
The program is not affiliated with the church and non-members are welcome to attend. According to AARP, older members of the LGBTQ population are much more likely to be socially isolated; and research done by the National Institute on Aging shows loneliness poses serious health risks.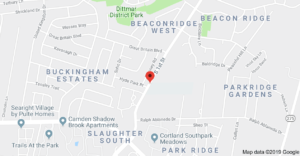 The location is UpRising Metropolitan Community Church, 8601 S 1st Street. MCC is accessible by Austin Metro (Routes 10 and 3).
Lunch is being provided at no charge by Meals on Wheels through a Federal grant administered by the Area Agency on Aging. The Senior Social Program event is open to all ages, but the funding source limits the meal service to those who are 60+, the spouse or partner of someone age 60+, a person who has a disability living with someone age 60+, or a person with a disability living in senior housing.
From 10:30 till lunch will be an "open" time when folks have a chance to get acquainted. Then, following lunch, there will be organized activities a determined by the group (could be games, speakers, movies, discussion groups – whatever the group would like to do).
A flyer from Meals on Wheels gives additional information and details on the program. Click here to access flyer
---
Services for the Medically Vulnerable
Registry and Case Management from the City of Austin and Community Partners
If you or someone in your household are a City of Austin Utilities customer and have a medical condition that could become life-threatening during a power outage, you may qualify for the Medically Vulnerable Registry. Designed for customers who need critical care or have chronic conditions, this registry provides personal case management from the City of Austin and partnering social service agencies.
To join the registry, complete the Medically Vulnerable Registry Information form or call Customer Care at 512-494-9400. Please have ready the name and number of the customer's physician, and the type of medical equipment in the customer's household.
---
Austin Grief & Loss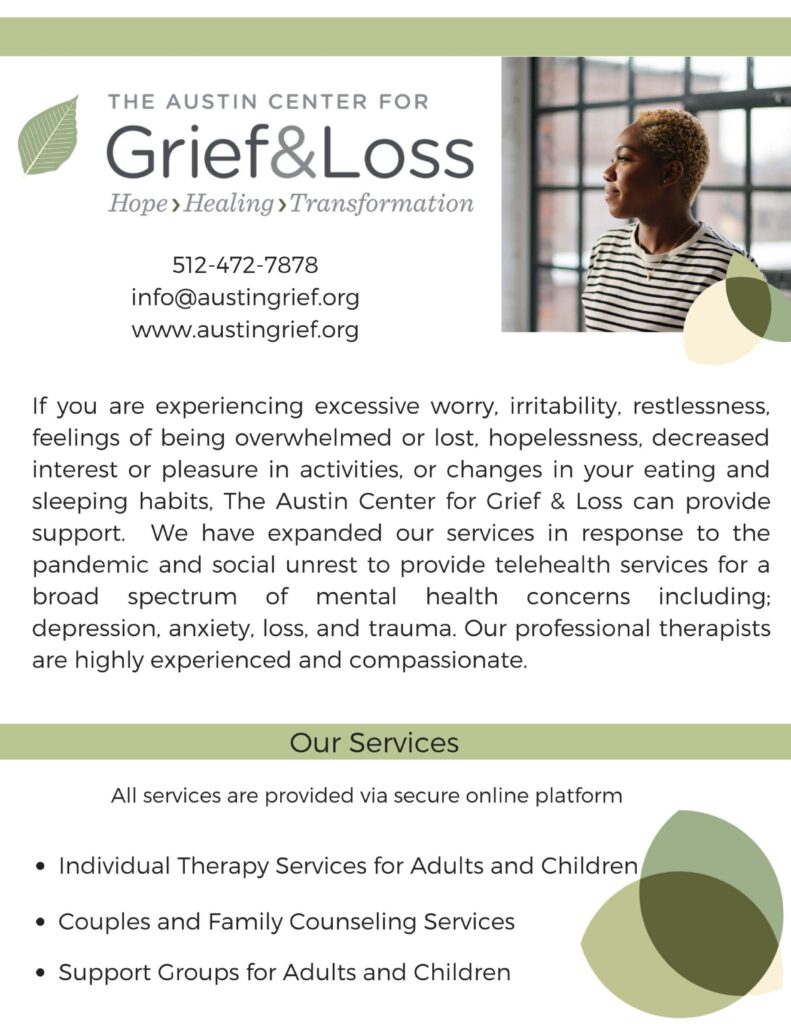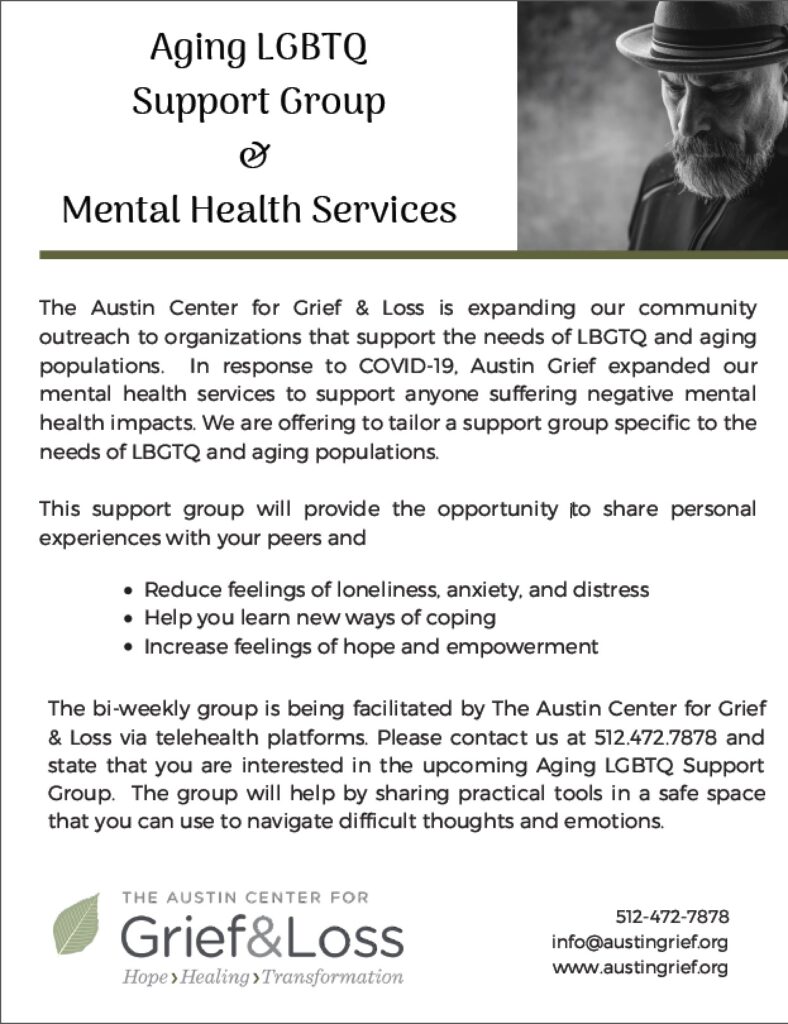 ---
New 988 Dialing Code for Suicide Prevention
and Mental Health Crisis
988—the new universal three-digit dialing code for suicide prevention and mental health crisis—goes into effect nationwide on Saturday, July 16, 2022. SAMSHA (the Substance Abuse and Mental Health Services Administration of the U.S. Department of Health and Human Services) will administer the new "988 Suicide and Crisis Lifeline," which will replace the current toll-free National Suicide Prevention Lifeline 1-800-273-TALK (1-800-273-8255). Importantly, the pre-existing 10-digit number will remain active and will connect callers to the new 988 Lifeline.
This new, simplified tool is critical for older adults and those living with a disability because such individuals are at greater risk for mental health crisis and suicide. Suicide rates are higher among older adults. Among men, the suicide rate is highest for adults aged 75 and older, while among women, the suicide rate is highest among those aged 45 to 64. Likewise, people with disabilities are significantly more likely than those without disabilities to report suicidal ideation, planning, or attempt. The 988 Suicide and Crisis Lifeline offers a simpler and more effective way for older adults and those living with disabilities to access help in the event of a mental health crisis.
---
Austin Prime Timers
is the local Austin Gay Men's social and support group.
Prime Timers meets monthly on the second Sunday. Many other social events are also scheduled throughout the month.
Link to the Austin Prime Timers website
___
Rainbow Forum Discussion Group
The Coalition in combination with Austin Prime Timers sponsors a monthly discussion group called The Rainbow Forum. Topics are selected by the group. The idea of the discussion group is patterned after a similar one associated with the Ft Lauderdale LGBTQ community center. The Austin group meets in the afternoon on the first Sunday of each month and has a volunteer moderator each month who provides material in advance on the topic chosen. For information on meeting topics and the location each month rsvp to forumaustin@gmail.com.
---
North Texas Senior Housing Guide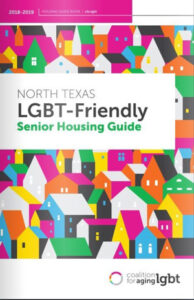 The Dallas-Fort Worth-based Coalition on Aging has produced a Guidebook to LGBT-Friendly Senior Housing, listing various facilities that meet up to LGBTQ senior expectations. While these facilities are in North Texas, the Guidebook is a good example of what can be done to assist our population in finding the right services for us.
---
The Rebekah Baines Johnson (RBJ) Health Center Sexual Health Clinic

Austin, Texas – The Rebekah Baines Johnson (RBJ) Health Center, which houses Austin's Sexual Health Clinic, was recently named as a Top Performer by the Human Rights Campaign Foundation's 2019 Healthcare Equality Index (HEI).
This year, only 22% of HEI participating facilities received the Top Performer designation. HEI gives facilities a score based on how many LGBTQ-inclusive policies and practices they have in place by looking at the following criteria:
The foundational elements of LGBTQ patient-centered care:
—Patient services and support
—Employee benefits and support
—Patient and community engagement
The RBJ Health Center received full points for patient non-discrimination, employment non-discrimination, training in LGBTQ patient-centered care, employee benefits and policies and transgender-inclusive health insurance.
"At Austin Public Health our core purpose is to prevent disease, promote health and protect the well-being of our community," said Stephanie Hayden, Director of Austin Public Health. "This Healthcare Equality Index recognition shows the success we have in meeting our mission and providing inclusive care for all."
Austin Public Health's RBJ Health Center, located at 15 Waller Street, provides Tuberculosis screening and treatment and the testing, diagnosis and treatment of sexually transmitted infections.
For more information visit AustinTexas.gov/SexualHealthClinic
---
---

Austin Family Eldercare
A program for Gay and Lesbian elders called AGLSS.
Established in 2012, AGLSS was provides aging services and resources for our LGBTQ+ community, ensuring that no one has to age alone. Through the support and foundation of the Bettie Naylor fund, these services are extended to the economically challenged as well. AGLSS, incorporated throughout our entire mission, is here to help you find the best care solution for your family, including benefits and insurance processing.
In 2014, Family Eldercare developed an LGBT and Aging Resource Guide. A new edition is expected soon in 2019. In the meantime, here's a link to download the earlier edition. LGBT and Aging Resource Guide – 2014
Older adults are an invaluable community resource, waiting to be tapped.
Our vision is to create a region that responds to aging as a dynamic rather than a stagnant force. We are all aging, all the time. And we want to make Central Texas a place that supports each of us, at every age.
Because our community is changing – and it's not just how you think.
---
---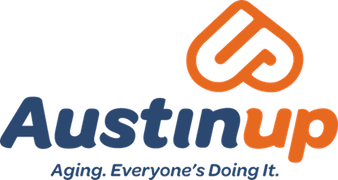 AustinUp
Link to AustinUp Resources List
---
---

SAGE is the national organization for LGBTQ seniors, click link:
Sage has teamed with the Human Rights Campaign (HRC) to create a Long Term Care Quality Index.

Read more about it here…
§
Here is a Guide done by the National Resource Center on LGBT Aging along with SAGE. It is entitled

Inclusive Services for LGBT Older Adults, A Practical Guide for Creating Welcoming Agencies

.
SAGE and HRC call for Inclusive Long-Term Care Communities.
Sage Article: The Facts on LGBT Aging
---
SAGE will be undertaking a new strategic direction
October 18, 2022 SAGE will be undertaking a new strategic direction in which we are committing to dramatically scaling our impact for LGBTQ+ elders everywhere – with a special emphasis on those elders previously left behind. We are reimagining and reengineering how we do our work and expanding our offerings – with two new divisions focused on SAGE's New York City services and our cutting-edge social enterprises for LGBTQ+ elders, a more diverse partnership model, and a path-breaking new SAGE Center of Excellence. You can learn more at sageusa.org/LookingAhead. Take a look at this video that shares more on our bold new direction.
While SAGE is expanding, our vision remains the same: to build a world in which LGBTQ+ elders thrive because they are valued and have boundless opportunities.
Our SAGE Centers in NYC, care management programs and services, and our current national programs (SAGE Hotline, SAGEConnect, and SAGECents) will remain available as they are now. Over time, we will add new programs and grow and improve on existing efforts.
SAGE will continue to provide high-quality LGBTQ+ cultural competency training and credentialing to elder care and service providers through our SAGECare program.
SAGE will continue to advocate at the local, state, and federal level to ensure that LGBTQ+ elders get the supports and systems they need to thrive.
In order to make the greatest impact for LGBTQ+ elders, SAGE will get closer to the communities we serve, partner with more diverse organizations and individuals, and center and share the knowledge and expertise we have developed for over 40 years. All this work will help us reach and support many more LGBTQ+ older people, with a particular emphasis on historically marginalized elders who are Black, indigenous or people of color (BIPOC), transgender and gender non-binary, and/or among the almost one-third of LGBTQ+ elders who live in rural areas.
---

Senior Services of Austin
Guardianship, Senior Housing Referrals, Geriatric Case Management, Senior Care Referrals, Long Term Planning, Crisis Intervention, Personalized Care
Senior Services of Austin helps families navigate all aspects of senior care. If you are one of the millions of people who provide care for a loved one at home or from another state, you know just how draining it can be. Geriatric Case Managers provide the help and expertise for managing a loved ones care and ensure that the care is not disrupted.
---
---
helps people find Independent, Assisted and Memory care communities. It is a free service which provides information on the community and pricing with families.
If you are trying to find appropriate housing for a loved one, family member or client, Corey Goward with Texas Family Services can help. This is a FREE service. Texas Family Services is able not only to assist seniors and families in finding quality living options but also get them needed resources and support.
Corey Goward
512-909-8438
Www.txfamilyservices.com
---
---

As Aging Life Care™ Managers, our top priority at Mir Senior Care Management, Inc. & Care Consultants is to help older adults live as independently as possible while still being safe and secure. http://mircareconsultants.com
Mir Care Consultants tailors a personalized solution uniquely designed to meet individual needs. Mir Senior Care's familiarity with local resources saves time, and often money. MirCare's compassionate understanding of the aging process saves you distress.
Services which MirCare offers include:
serve as a guide
offer suggestions and create a plan
ease family discord
smooth transitions
provide an objective viewpoint
save time, money, and distress
---
---

Drive A Senior-West Austin provides free transportation and other support services to home-bound isolated seniors in Austin. https://driveasenior.org/
Drive A Senior West
512-472-6339 Office
512-461-5954
2601 Exposition Boulevard
Austin, TX 78703
Stephanie Lane
Executive Director
Note: Staff from Drive a Senior attended the Educare "Path to Compassionate Cultural Care for Aging LGBTQ+" Workshop (October 29, 2019). They report that they have made some adjustments in response to become more aware and active in the lives of the senior LGBTQ+ community. The Coalition is pleased to see evidence that training works.
---
---
Aging Services Council of Central Texas
Here's the link to a webpage which includes the Ride Guide and the Aging Services Council Fact Sheet.
This link is on the Aging Services Council website.
---
Area Agency on Aging
"Navigators"

The Area Agency on Aging of the Capital Area (AAACAP), a division within the Capital Area Council of Governments (CAPCOG), provides quality services to support the health, safety, and well-being of older individuals in the 10-county Capital Area.
AAACAP contracts with other agencies to ensure the availability of services such as transportation, nutrition, homemaker and senior center operations. In addition, it directly provides Referral and Assistance services, through the system of Access and Assistance program, Benefits Counseling, Long-term care and Assisted Living Facilities Ombudsman services, Care Coordination and Information. The area agency also provides services to caregivers under the National Family Caregiver Support Program.
AAA offers access to "Navigators" who can help
with the complexities of finding services.
Ironically, there are so many services for old adults
that it is VERY difficult to find them.
AAA of the Capital Area will assist.
888-622-9111 Ext 6062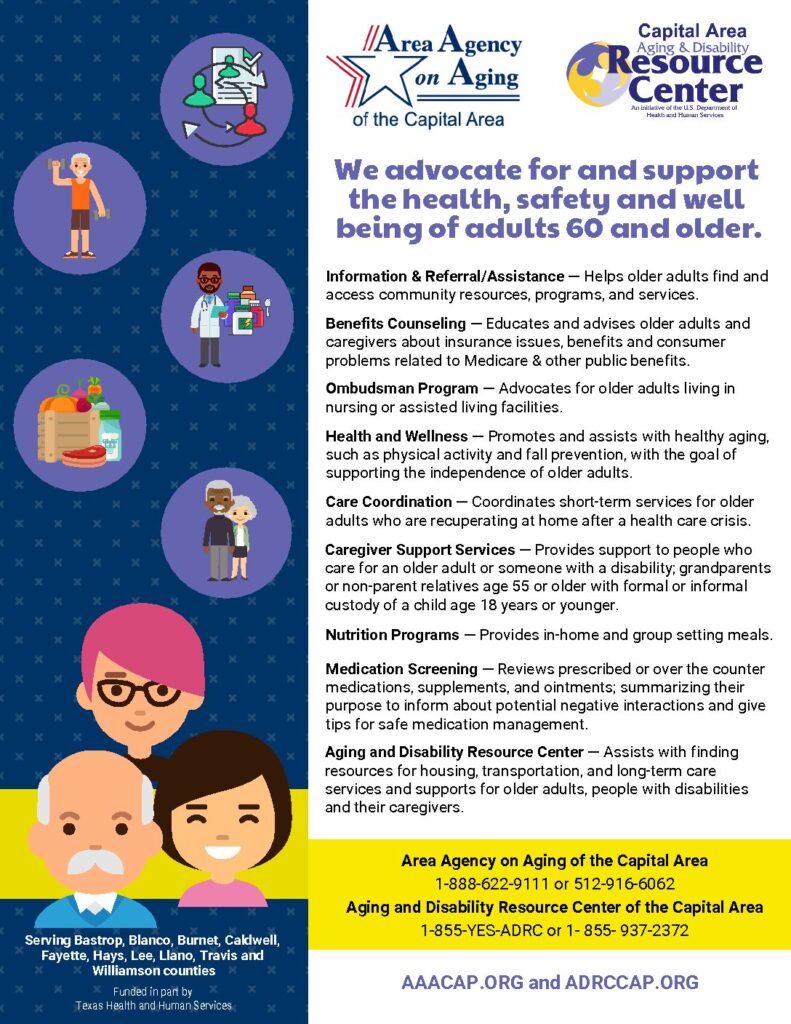 ---
---

PART OF "THE PRIDE OF CARING: ISSUES FOR LGBTQ CAREGIVERS" SERIES Listen to the previously recorded program
Dr. Elliot Montgomery Sklar is a public health professional with vast experience in managing health programs and initiatives.
---
---
State of Texas Health and Human Services

Finding long-term care for yourself or a family member is an important task. While nothing can replace visiting a facility or meeting with a provider in person, the Long-term Care (LTC) Provider Search can help you learn more about these providers and facilities. Click on the link:
Long Term Care Provider Search
______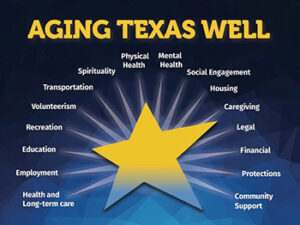 Aging Texas Well is a Texas Health and Human Services initiative that helps Texans prepare for all aspects of aging at both the individual and the community level. Among many other services, Aging Texas Well sponsors a free exercise and fitness program for older adults called Texercise.
click on the links to see what the State of Texas offers
PDF of Texas's Aging Well Plan
---
---
Austin 'User-Friendly' Map Listing Affordable Housing
The City of Austin has released a new comprehensive map of housing for low- and middle-income residents.
The digital map, known as the Affordable Housing Listing, shows an array of income-restricted housing units subsidized or incentivized by the city.
---
Austin Age-Friendly Action Plan:
Executive Summary
The LGBTCOA participates in the various workgroups described in this document
Click the link to download the file:
Age Friendly Austin Action Plan
---
---
The University of North Dakota Resources for the Aging LGBTQ+ Community
The University of North Dakota's College of Nursing & Professional Disciplines offers a website of "Resources for the Aging LGBTQ+ Community: Healthcare, Financial Planning, & Long Term-Care." This resource aims to provide the LGBTQ+ population the care and treatment they deserve by sharing information on the LGBTQ+ health disparities, financial planning, estate planning, and long term care options. This is a national resource, not specific to Austin or Texas.
---
---
---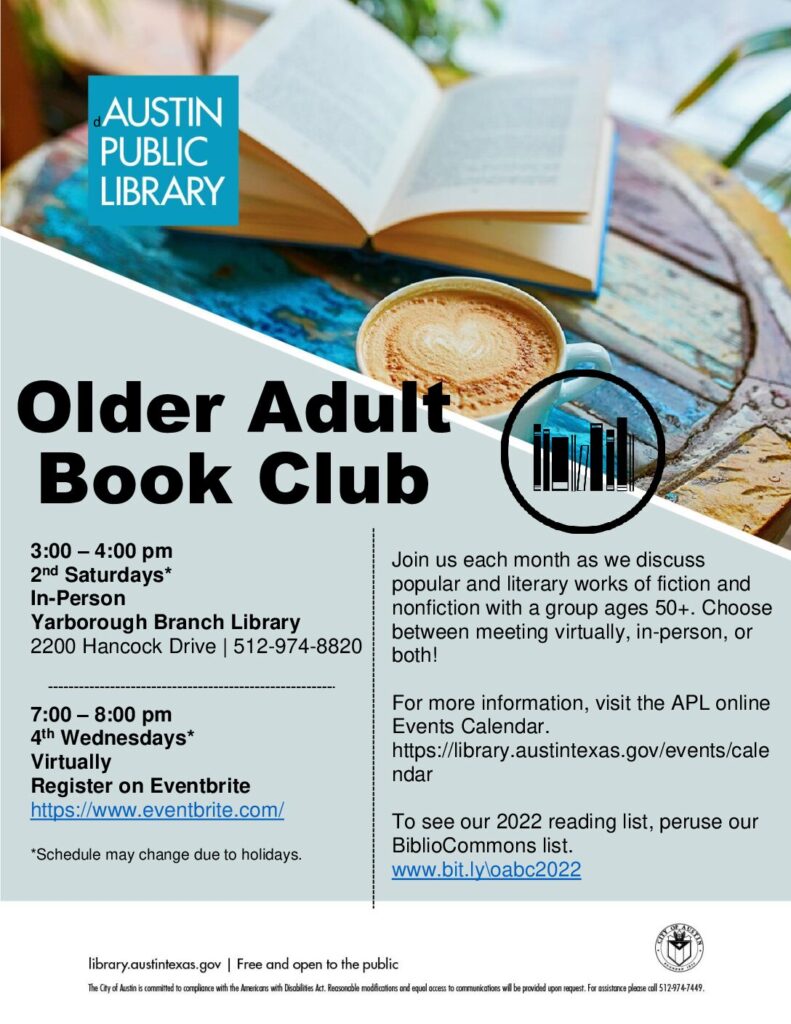 Seniors can Take University & State University classes free
Seniors can take up 6 credits a semester at state universities and not have to pay tuition, but do have to pay university fees. One course a semester costs about $650 in fees but saves about $900 in tuition. If one took a second 3-credit course it would totally free.
The links are for a description of the program and an article about it that was in the Daily Texan a few years ago.
http://www.collegeforalltexans.com/apps/financialaid/tofa2.cfm?ID=564 https://thedailytexan.com/2015/10/22/state-law-lets-senior-citizens-attend-classes-free-of-charge
---
---
Senior Co-Housing — Kindred Uncommon


There is a Senior Housing Project being developed in Buda called Kindred Uncommon. (It had originally been called Cantina.) The organizers of the project are members of the Austin LGBTQ community and invite our interest in their project. If you want to learn more about Kindred Uncommon, here's a link to an article in the Senior Resource Guide about Cantina titled A New Model of Active Adult Senior Living is Coming to the Austin Area.
  https://srgserv.com/industry/cantinacommunities/

And here's a link to their new website with artist renderings of the project
https://kindreduncommon.com
---
HIV Testing general info

Approximately 1.2 million people in the U.S. are living with HIV today, and about 14% of them (1 in 7) don't know it and need testing. This resource helps people understand why and when they should get tested for HIV. It also discusses common HIV risk factors, symptoms, and treatment options. https://www.testing.com/std-testing/hiv-test/
---
Interesting Links
---
SeniorsMatter

The website SeniorsMatter — https://www.seniorsmatter.com/resources/texas/austin — has links to local senior services of all sorts. The page is not LGBT specific. They also have a section that IS LGBTQ specific, but not Austin-specific. https://www.seniorsmatter.com/search/LGBTQ
---
It covers five key areas: how to plan for retirement, what insurance you need, money questions to ask before marriage, the costs of adding children and ways to erase credit card debt.
(NOTE: This guide is from a site that links customers to various credit cards. We are not recommending credit cards. We are simply providing a link to info about debt management and retirement planning for older LGBTQ people.)
---
For older people (not specifically LGBTQ)
Below is a compiled list of
Resources for seniors and caregivers
in the Central Texas region:
This list was prepared for Travis County Commissioners
Home Safety for Seniors, Eldercorps materials:
The Most Common In-Home Injuries for Seniors and How to Prevent Them
https://www.homeadvisor.com/r/senior-home-injuries-and-prevention/
Fire Safety for Elders with Special Health Needs
https://www.agingcare.com/articles/fire-safety-for-elderly-148990.htm
Preparing Your Home for a Loved One with Alzheimers: A Caregivers Guide
https://www.redfin.com/blog/2016/09/preparing-your-home-for-a-loved-one-with-alzheimers-a-caregivers-guide.html
44 Crime prevention tips for seniors
https://roodepoortrecord.co.za/2016/11/11/44-crime-prevention-tips-for-seniors/
Handicap Accessible Modifications That Wont Turn Off Future Homebuyers
https://www.angieslist.com/articles/handicap-accessible-modifications-won-t-turn-future-homebuyers.htm
How To Garden Safely When You're A Senior
https://howdoesyourgardenmow.com/garden-safety-for-seniors/
Caregiver Information and Resources provided by AGE of Central Texas (updated April 2018):
http://www.ageofcentraltx.org This includes information such as Caregiver Support Groups, Legal Documents, Brain Exercise Activities, Transportation and Healthcare for seniors in Travis County, among many other resources.
Electronic Version of the Caregiver Guide to Central Texas: https://ageofcentraltx.org/index.php/caregivers/caregiver-resources/
---
The Loss of a Pet
The loss of a companion animal is hard for everybody. It can be especially hard for older people for whom their pet has been their sole companion. Here are links to websites called The Association for Pet Loss and Bereavement and the Joy Session Network for information and support in mourning a beloved pet.

---
Making Your Home Senior-friendly
Taking in your senior or disabled family members to live with you has a lot of benefits. You can spend more time with your loved one and ensure they get the care and attention they need and it removes the cost of an assisted living facility. Unfortunately, a large percent of homes are not fit to accommodate the specific needs they may have. Our guide will show that whether you're able to make major modifications or minor changes, there are plenty of ways to redesign your home so all of its residents are safe and comfortable.
https://www.fivestarpainting.com/blog/2020/april/home-modifications-accommodations-for-seniors/
Here are some general, mostly Travel-Related, links
Expand Your Circles: Prevent Isolation and Loneliness As You Age
Destinations for Travelers Over 60
Seniors Traveling Solo
Personal Transportation for Seniors
___