See info about Covid-19 for nursing homes and senior services
On this page:
Training Opportunities in the Austin Area
PowerPoint presentations you're welcome to download to use
Information about SAGE
Information about SAGECare Training
Article from The Gerontologist Journal on Successful Aging among Older LGBT Adults
Books on Caring for LGBTQ Residents & Patients
_________
PowerPoint Presentations from the ALGBTCOA
click on the title below to download the PowerPoint file
The AARP Study itself is posted to Research & Links
---
Training in the Austin Area
Family Eldercare offers a range of services for Senior populations, including LGBTQ+. Staff at Family Eldercare also provide training for other agencies.
For information about Family Eldercare LGBTQ+ Training, contact:
Cheryl Young, LCSW-S, Clinical Director/Program Manager Counseling Services at cyoung@familyeldercare.org
———
If you know of other trainers or training opportunities, please contact us at contact@algbtcoa.org. We'd be happy to post the information.
---
National organizations for LGBT Seniors
Click on the name SAGE to access their website.

Here is a link to a video training about service provision issues for this population. This video could be useful for planning in-service training of agency personnel.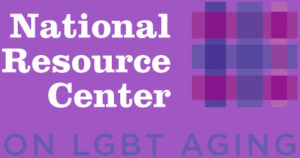 "Understanding and Supporting LGBT Older Adults" is a recorded presentation. This presentation provides a basic introduction and understanding of LGBT older adults. Viewing the online presentation takes approximately 30 minutes.
Click on the link below to register and then view the video.
https://www.lgbtagingcenter.org/training/understanding/
______
Here is a Guide done by the National Resource Center on LGBT Aging along with SAGE. It is entitled

Inclusive Services for LGBT Older Adults, A Practical Guide for Creating Welcoming Agencies

.
---
SAGECare Training
Click on link below for schematic of SAGE Training in PDF format
Here is a text description of SAGECare Training.
Info below was obtained from the link below.
http://sageusa.care/our-services/coaching-training/
SAGECare trainings are designed to be suitable for all levels of employees. 1 hour trainings can be delivered in-person, via live webinar, or through a digital training platform. 4-hour trainings for Executive/Administrative staff are facilitated in-person* by a SAGECare Certified Trainer.
1 Hour Training for Employees/Staff:
These trainings provide an overview of the needs, concerns and unique history of LGBT older adults, as well as meaningful steps that staff can take to immediately improve the quality of support and services they provide. Staff are required to complete one hour of training annually:
Supporting Lesbian, Gay, Bisexual and Transgender Older Adults

Explain the terms lesbian, gay, bisexual, and transgender
Understand why LGBT older adults may hide their identity
Incorporate LGBT concerns into person-directed care
Connect to local and national resources

Creating Inclusive Communities for LGBT Older Adults

Designed for staff working in nursing care or other residential care settings
Learn about the unique needs of LGBT older adults
Get an overview of the various rights and protections extended to LGBT residents
Learn other best practices for creating communities welcoming to LGBT older adults, their loved ones, and their caregivers

Welcome Home: LGBT Older Adults and Housing

Designed for staff working in any housing environment
Learn tips for responding to bias behavior between roommates or neighbors
Get an overview of federal protections that apply to LGBT people
Learn best practices to help create a supportive environment for current and future older LGBT residents
Specialized Topics (1 hour each):
Participants who have already completed an introductory training have the option to take advanced trainings in specialized topics such as:
Embracing LGBT Older Adults of Color

Discuss the ways race and ethnicity intersect with LGBT identity
Learn about the unique vulnerabilities and resiliencies of LGBT older adults of color
Consider changes that can make your organization welcoming for LGBT older adults of color

Transgender Aging: What Service Providers Need (and Don't Need!) to Know

Answer common questions about the transgender experience and transitioning
Learn best practices for providing transgender affirming care
Discuss the unique needs of transgender older adults

Respected and Whole: Preventing Anti-LGBT Bias Between Constituents, Staff, and Across Aging Services

Explore our 8 suggestions for preventing bias and creating inclusive services
Discuss concrete programming ideas and policies to ensure staff and constituents feel respected and safe
Learn how an inclusive environment can improve the health and happiness of both staff and constituents

Asking Demographic Questions About Sexual Orientation and Gender Identity

Learn practical tips from experts about how to ask questions related to sexual orientation and gender identity
Understand why these questions are important for all service organizations
Learn the nuances of asking these questions to older adults
Learn how to respectfully respond to questions and concerns that arise in these conversations
4 Hours Training for Executives/Administrators*:
These trainings provide an in-person learning experience designed to help executives/administrators/leadership understand the cultures, needs, and concerns of LGBT older adults. Executives/Administrators are expected to complete four hours of training every three years. Trainings that satisfy this requirement include:
Improving Aging Services for LGBT Older Adults

Learn about the culture, needs, and concerns of LGBT older adults
Consider why LGBT older adults are less likely to access health and social services
Learn practices for helping LGBT older adults to feel more included in aging network organizations

Including Older Adults in LGBT Organizations

Learn about the culture, needs, and concerns of LGBT older adults
Consider why LGBT older adults are less likely to access social services
Identify best practices and tools to better serve the LGBT older adults who currently access your services or are in need of your services

Psychosocial Needs of LGBT Veterans

Learn about the culture, needs, and concerns of LGBT veterans
Consider the impact of Don't Ask Don't Tell on LGBT veterans
Discuss existing VA benefits and protections for LGBT veterans

Hospice and Palliative Care for LGBT Patients and Families

Learn about the culture, needs, and concerns of LGBT older adults
Consider the specific psychological, emotional, and legal situation faced by many LGBT people at the end of life
Build the professional skills and knowledge base needed to provide high-quality care for LGBT people and their families
* If your organization has fewer than 10 employees this requirement can be fulfilled by Executive/Administrative staff completing four of the 1 hour trainings. For more information, please contact us.
SAGECare LGBT Aging Self-Report:
Silver, Gold, and Platinum levels require that Executive and Administrative staff receive training every three years. During years in which Executive and Administrative staff are not being trained, participating agencies must submit a SAGECare LGBT Aging Self-Report. This short questionnaire is a way for your agency to update SAGECare staff on your success providing LGBT inclusive services, as well as any questions or feedback on the SAGECare credential program.
After reviewing your agency's report, SAGECare staff are available for one hour of consulting or technical assistance.SAGEtrainingsheet-03
---
Here's an article from The Gerontologist Journal (2015, Vol. 55, No. 1, 154–168), titled:
Special Issue: Successful Aging Among LGBT Older Adults.
Purpose: Lesbian, gay, bisexual, and transgender (LGBT) people are a health disparate population as identified in Healthy People 2020. Yet, there has been limited attention to how LGBT older adults maintain successful aging despite the adversity they face. Utilizing a Resilience Framework, this study investigates the relationship between physical and mental health-related quality of life (QOL) and covariates by age group.
Design and Methods: A cross-sectional survey of LGBT adults aged 50 and older (N = 2,560) was conducted by Caring and Aging with Pride: The National Health, Aging, and Sexuality Study via collaborations with 11 sites across the U.S. Linear regression analyses tested specified relationships and moderating effects of age groups (aged 50–64; 65–79; 80 and older).
Results: Physical and mental health QOL were negatively associated with discrimination and chronic conditions and positively with social support, social network size, physical and leisure activities, substance nonuse, employment, income, and being male when controlling for age and other covariates. Mental health QOL was also positively associated with positive sense of sexual identity and negatively with sexual identity disclosure. Important differences by age group emerged and for the old–old age group the influence of discrimination was particularly salient.
Implications: This is the first study to examine physical and mental health QOL, as an indicator of successful aging, among LGBT older adults. An understanding of the configuration of resources and risks by age group is important for the development of aging and health initiatives tailored for this growing population.
Click on the link below to download the PDF file.
---

PART OF "THE PRIDE OF CARING: ISSUES FOR LGBTQ CAREGIVERS" SERIES. Listen to the previously recorded program
by Dr. Elliot Montgomery Sklar, a public health professional with vast experience in managing health programs and initiatives.
---
Books on Caring for LGBTQ Residents & Patients
Welcoming LGBT Residents
by Tim R. Johnson
Welcoming LGBT Residents is the first comprehensive guide to working with LGBT older adults in senior living settings.
The LGBT older adult population represents one of the fastest-growing subpopulations within our aging society. Despite the increasing demand for LGBT-affirming services there is an absence of training books for care providers. This dual-purpose text is appropriate for training and as a guide to answer questions that may come up during daily tasks. It is based on the most recent research and includes stories and testimonials from LGBT older adults and providers in the field.
This timely book will be of interest to professional care providers, from long-term care nurses and assisted living administrators to staff in retirement communities, as well as students in gerontology, health care administration, and social work courses. $32 paperback
---
LGBTQ-Inclusive Hospice and Palliative Care: A Practical Guide to Transforming Professional Practice 1st Edition
by Kimberly Acquaviva (Author)
This is the only handbook for hospice and palliative care professionals looking to enhance their care delivery or their programs with LGBTQ-inclusive care. Anchored in the evidence, extensively referenced, and written in clear, easy-to-understand language, LGBTQ-Inclusive Hospice and Palliative Care provides clear, actionable strategies for hospice and palliative physicians, nurses, social workers, counselors, and chaplains. $25 paperback
_____
TRANScestors: Navigating LGBTQ+ Aging, Illness and End of Life Decisions
Volume I: Generations of Hope
Edited by Jude Patton and Margot Wilson
 This volume (and the ones that follow) have been in the works for some time. What finally emerges after many months of assiduous advertising, recruiting, editing, and organizing is a volume of intimate, nuanced, and heartfelt stories that reflect the wide diversity in the ways in which trans, non-binary, and Two-Spirit people have come to recognize, signify, embody, and celebrate their difference as their authentic selves. Moreover, with an increasing emphasis on the experiences of trans youth, elders constitute a routinely overlooked, disregarded, and/or silenced segment of the community. In response, this volume documents the myriad ways in which trans elders are coming to terms with the real-life challenges of aging, illness, and end of life decision-making. $19.99 paperback. Also available in ebook formats.
TRANScestors is planned as a series of edited volumes that address the issues of LGBTQ+ aging, illness, and end of life decision-making and will be published by TransGender Publishing. Additional volumes include: Volume II: Generations of Change, Volume III: Generations of Pride, and Volume IV: Generations of Challenge.