---
click on the link above to access the current newsletter.
There are lots of interesting Announcements below on this page, please scroll down.

§§§
Steering Committee
Meetings
a
re held on the 3rd Thursday of the month
The Next COA meeting will be the Official Annual General Meeting:
Thursday, October 19, 2023, 2:30 pm
The Austin LGBT Coalition on Aging Steering Committee Meetings are open to all. Members of the Coalition and ALL recipients of this email announcement are invited—and urged—to attend.
To continue the work of the Coalition, public participation is needed.
Please RSVP so we will expect you and know to admit you to the zoom room
Email contact@algbtcoa.org for more information or to RSVP
You're Invited
Here's the link to the meeting:

This Meeting will include election/ratification of Steering Committee Members and Officers, the required recommendation from the Committee for dues, a discussion of Sponsorship Opportunities, and an update on the work of the Coalition. This meeting is required by the By-laws for our legal status. Please try to attend. Your participation is important.
§§§
---
FYI

The ongoing project of the ALGBTCOA is to encourage and facilitate senior services and especially residential and nursing care agencies to become LGBTQ+ friendly and competent.  To this end, we are beginning to host Networking Events for local service providers. Below is an announcement of the first such event.

You're invited. Free lunch!
Steering Committee Membership
Membership is open to all regardless of age, race, sexual orientation, or gender identification. The Steering Committee meets monthly, almost always less than two hours.  Currently those meetings are held virtually so there is no time spent in traffic. It's a great opportunity to be more involved in the direction of the Coalition and get better acquainted with folks like yourself who are interested in improving the lives of LGBT seniors in Austin.
If you would like to have more information about serving on the
Steering Committee, please contact us at 
---
The Coalition marched in the PRIDE Parade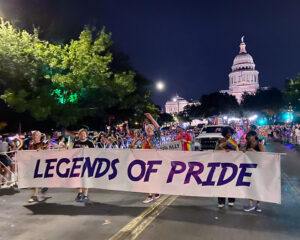 "Thank you to all who came out to Austin PRIDE 2023. A BIG THANK YOU to our planning partners at Rainbow Connections ATX. Thank you to our sponsor, The Helper Bees. And Thank you to our partners who joined us in the parade; Alzheimer's Association, Austin Public Library, Care Patrol, LBJ Library, Book Woman, AARP Texas, Agency on Aging Capital of Texas, Helper Bees, Taylor PRIDE, Austin PRIDE, AGE of Central Texas, and the office of Congressman Lloyd Dogget. 
This year we celebrated Austin's LEGENDS of PRIDE, which we defined as someone actively involved in the Qmmunity of Central Texas that is TwoSpiritLGBTQIA+ and 60 or older. We are so honored to participate in this space and can't wait to continue to grow and build on this platform. Make sure to follow up on Facebook for more pictures and up to date event information. " 
---
Who We Are
The ALGBTCOA is a coalition of community activists, service agencies, LGBTQ organizations, and interested parties who have come together to improve the future for LGBT older adults as we naturally age. The Coalition hopes to encourage service providers and senior services to understand and train their staffs regarding the needs of LGBT clients, residents, and patients. The Coalition was formed to address the question: "What are the LGBT friendly services in Austin?" We would like to make all of them LGBT-friendly.

GOLDEN GENERATION
A Meals on Wheels Senior Lunch
Mondays & Wednesday 10-1
As some of you know, Age-Friendly Austin in partnership with Aging Is Cool, has applied and been awarded a microgrant through the AARP Community Challenge program. Our grant is for the completion of a Walkability Audit in two locations in Austin identified as high traffic areas, close to a grocery store,  low-income areas, and have a high population of older adults. We hope that through this assessment we will identify barriers and safety issues that may impede safe food access for older adults and those with disabilities.
The dates for the Walkability Audits are Tuesday, October 3rd and Thursday, October 5th. We are hoping to have 50 volunteers who will be able to participate in each walkability audit, with a focus on recruitment of individuals 50+ who live in the designated areas. Individuals with disabilities, who use wheelchairs/scooters, who push strollers, etc. would also be a great addition to the volunteer pool so we can capture their unique perspectives.
I am asking that you reach out to your networks to spread the word about this effort, and hopefully help recruit volunteers. I am attaching a flyer that can be distributed to anyone who would like to participate. I'm also attaching some information about the AARP Community Challenge Program.
Dates/Locations –
Tuesday, October 3rd – Walk Audit at Pleasant Valley and Riverside
Thursday, October 5th – Walk Audit at South Congress and Oltorf
 More details to come! Please let me know if you are interested in participating, and/or helping to recruit volunteers by emailing me at Nicole.howe@austintexas.gov.
Senior Homestead Tax Exemption
Austin Public Health is hosting an event at the Gus Garcia Recreation Center to provide information on the Senior Homestead Tax Exemption and other services that provide financial support to Austin's older adults. Vendors include agencies that provide home repairs, additional tax breaks, employment opportunities, and financial safety. The event will be held on Thursday, September 28th from 11 am – 1 pm. Lunch will be provided, along with giveaways and raffle items. There will also be a speaker who will provide tips on financial security and safety against financial predators.

For more information, please contact us at agefriendlyaustin@austintexas.gov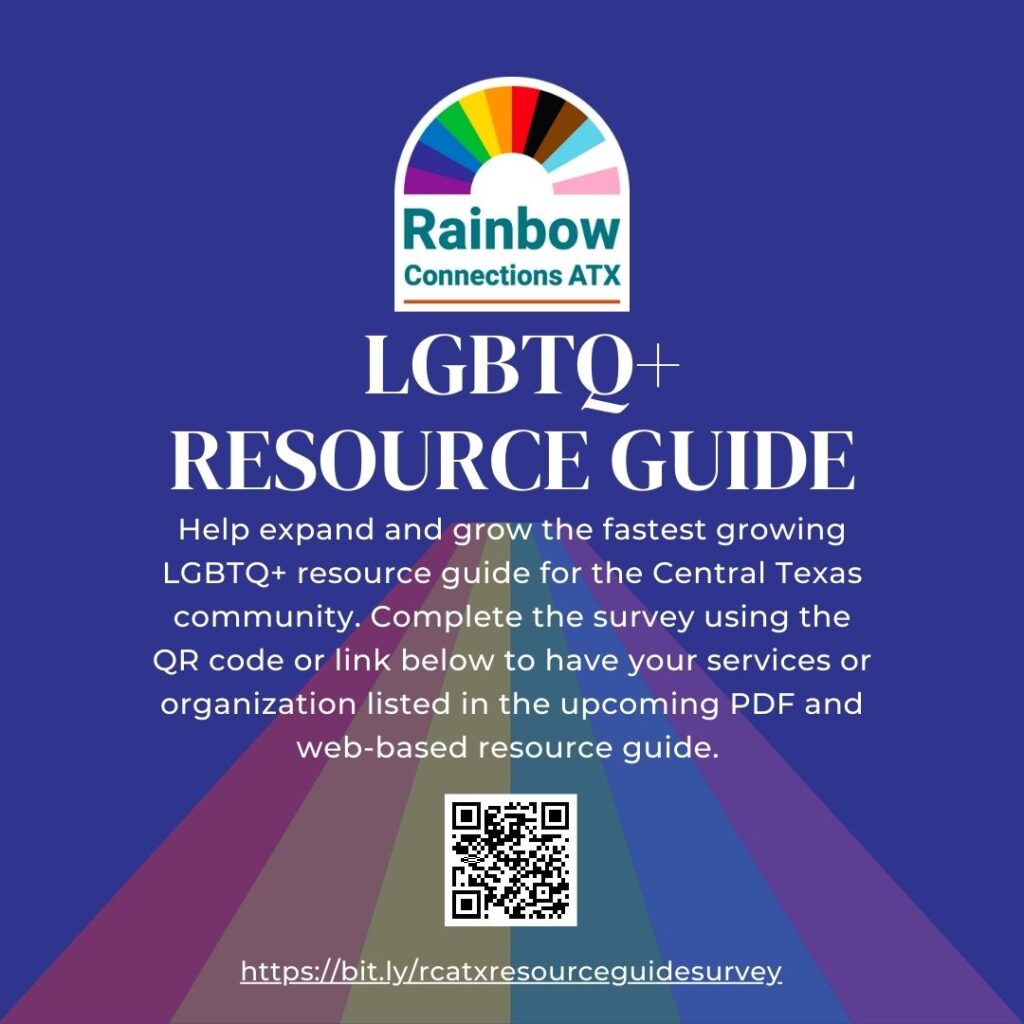 If you're LGBTQIA+ and live in Travis, Williamson, Bastrop, Hays, or Caldwell County, it's important that you take our LGBTQIA+ Wellbeing Survey of Greater Austin. Your answers are completely anonymous and help us track and measure our community's health, wealth, and happiness so we know what you need to thrive here in Central Texas. 

                   SURVEYS                  
Here's an opportunity to get your real life experiences recognized

---


                 Austin LGBTQ History               
The Watson Chateau – Austin's Well-Kept Secret
Hiding on University of Texas at Austin campus, next to the School of Nursing, a peculiar building peeks out from behind old trees, tall fencing, thick vines, and overgrown bushes. Unlike all the other buildings on campus, no sign announces the university-owned Arthur P. Watson-Robert "Bob" Garrett House (a.k.a. The Chateau or Watson Chateau). It is a place filled with under-told history about women, African-Americans, and 50 years of importance to the LGBTQ community. If you visited The Chateau, have photos/videos, or simply heard stories, please contact Marta Stefaniuk at watsonchateau@gmail.com to help her continue collecting its vital history. 

The ALGBTCOA is sponsoring The Memory Project: LGBTQ History in Austin. Please take a look at our page on this website. Please consider contributing your story.


The national organization SAGE will be undertaking a new strategic direction – with a special emphasis on those elders previously left behind.
In Face of Anti-LGBTQ+ Extremism, 200 Senior Living Communities Commit to LGBTQ+ Inclusion, Participating in Inaugural Long Term Care Equality Index (LEI) by HRC Foundation and SAGE
Click here to access the report and see the LGBTQ+ inclusive senior facilities around the US

Check out the Announcements in the current Newsletter (above) for
QWELL events, Austin PRIDE,
Rainbow Connections ATX, etc

                       

SERVICES                       
---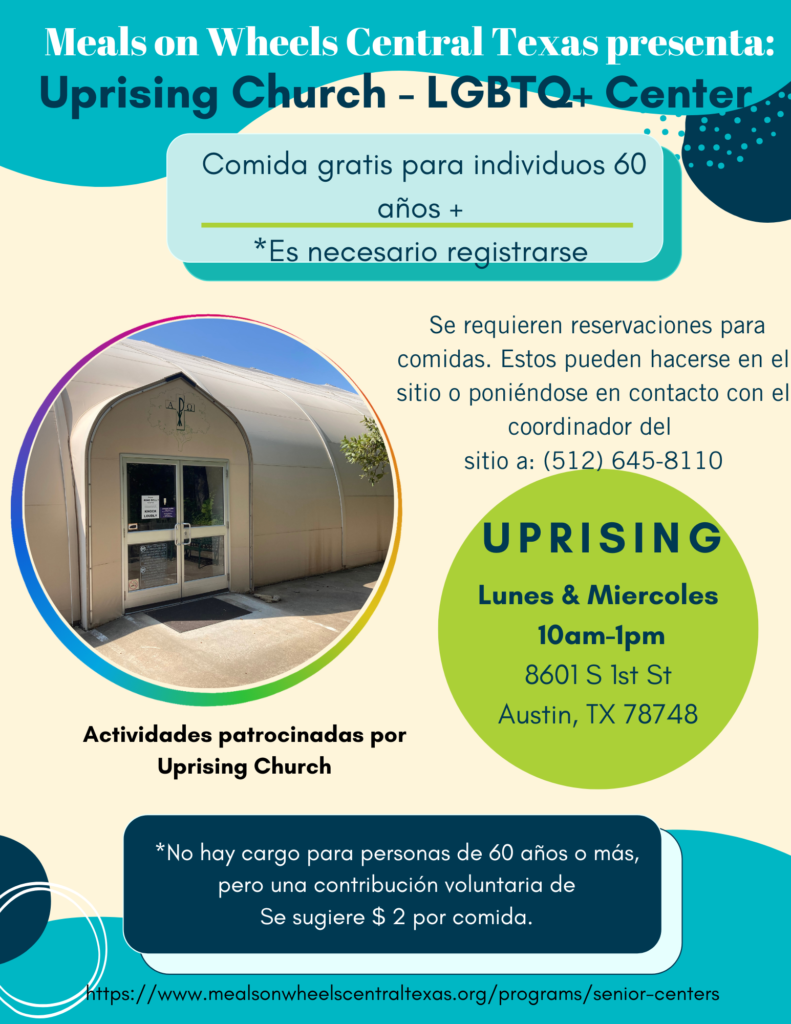 \
---
City of Austin
LGBTQ Quality of Life Study
Click here to download the full Report, titled Priorities for Action, from our website
Click here to download the Travis County Snapshot from the American Communities Survey with interesting demographics (Note: LGBTQ stats were not included in this 2021 survey.)
---
---

QWELL is a sister organization to the Coalition on Aging; from the first Townhall Meeting that saw the creation of the ALGBTCOA, we were charged with participating in the development of an LGBTQ Community Center. QWELL, headed up by Clayton Gibson, has been a leader in that effort and in the recent community surveys.
Click here to make your donation to support MASSIVE PROGRESS for LGBTQIA+ people in Greater Austin
---
What the Coalition did last year:
---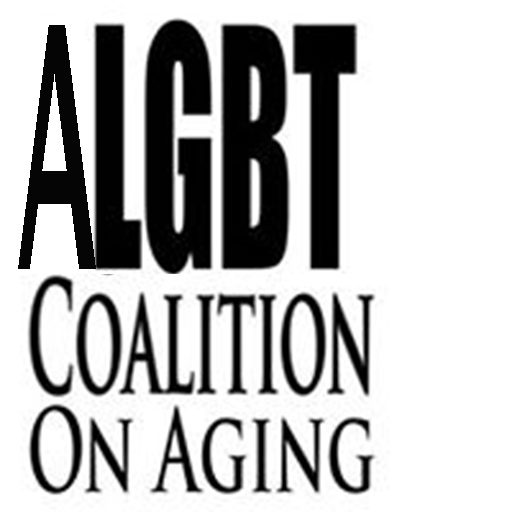 Annual Report 2022
This has been an encouraging year for the Coalition with the addition of some new members to the Steering Committee with all kinds of new ideas and energy. Their enthusiasm along with the generous support of the The Helper Bees resulted in our first participation in Austin's PRIDE parade this year. Part of the original impetus for forming the Coalition several years ago came from a young lady who questioned the lack of input in Austin's Age-Friendly Plan by saying, "we don't all wear little bitty bathing suits and ride on floats you know." We didn't succeed in getting her on the float this year and there weren't a lot of "little bitty bathing suits," but LGBT Seniors were loud and proud for PRIDE!
In addition to having fun we also continued to take care of the business side of an organization, moving from the financial sponsorship of AustinUP to our own bank account and acquiring insurance protection for our governing board. In our meeting this month we established rates for sponsoring organizations and will be welcoming those as we continue to provide advocacy for our community.