---
click on the link above to access the current newsletter.
There are lots of interesting Announcements below on this page, please scroll down.

§§§
Steering Committee
Meetings
a
re held on the 3rd Thursday of the month
The Next COA Steering Committee  meeting will be:
Thursday, April 20, 2022, 2:30

pm
———
The Austin LGBT Coalition on Aging Steering Committee Meetings are open to all. Members of the Coalition and ALL recipients of this email announcement are invited—and urged—to attend.
To continue the work of the Coalition, public participation is needed.
Please RSVP so we will expect you and know to admit you to the zoom room
Email contact@algbtcoa.org for more information or to RSVP
You're Invited
Here's the link to the meeting:
---
Steering Committee Membership
Membership is open to all regardless of age, race, sexual orientation, or gender identification. The Steering Committee meets monthly, almost always less than two hours.  Currently those meetings are held virtually so there is no time spent in traffic. It's a great opportunity to be more involved in the direction of the Coalition and get better acquainted with folks like yourself who are interested in improving the lives of LGBT seniors in Austin.
If you would like to have more information about serving on the Steering Committee, please contact us at
---
Who We Are
The ALGBTCOA is a coalition of community activists, service agencies, LGBTQ organizations, and interested parties who have come together to improve the future for LGBT older adults as we naturally age. The Coalition hopes to encourage service providers and senior services to understand and train their staffs regarding the needs of LGBT clients, residents, and patients. The Coalition was formed to address the question: "What are the LGBT friendly services in Austin?" We would like to make all of them LGBT-friendly. Read about the goals of the Coalition

---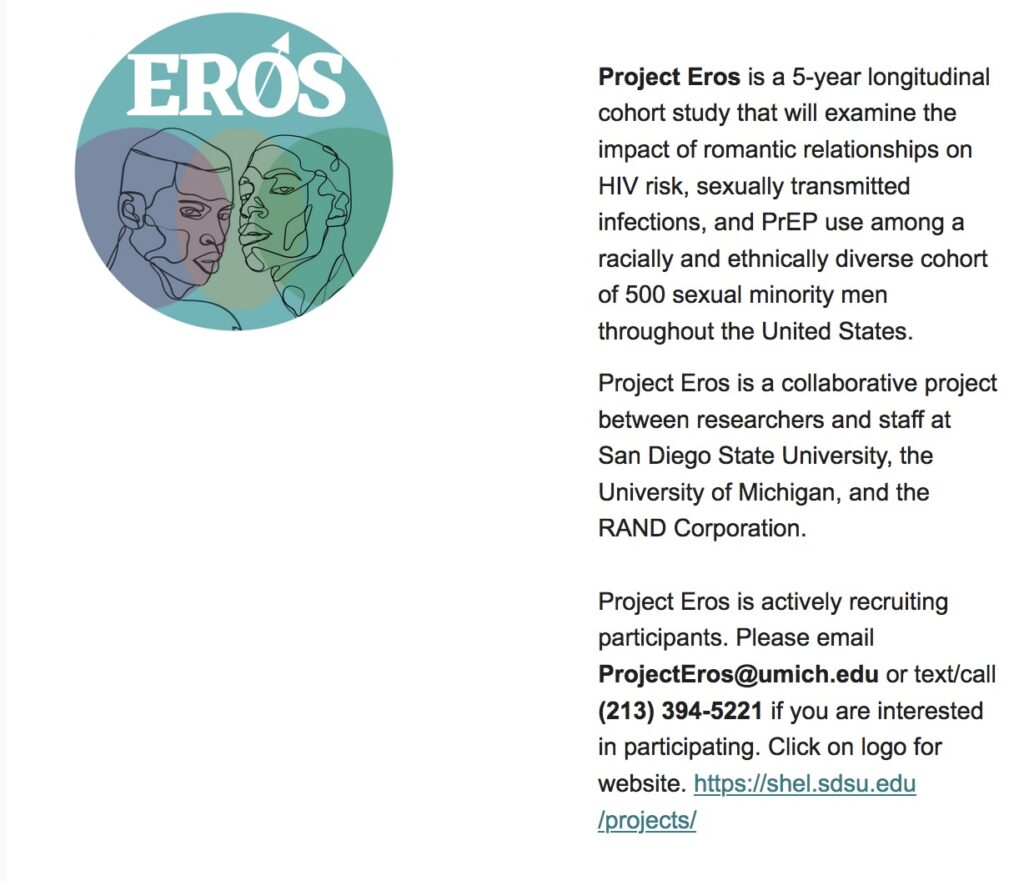 Appendix_B_Recruitment_Flyer_1

Appendix_B_Recruitment_Flyer_3


Work & Health Experiences Questionnaire
The Austin LGBT Coalition on Aging is a community organization partner with a research study on LGBTQ+ work and health experiences led by Dr. Elizabeth K. Eger at Texas State University. We are excited to include older adults in our project. If you would like to participate in this study, you are invited to complete a confidential questionnaire to understand your organizational and health communication experiences as an LGBTQ+ Texan.
It will take approximately 20 minutes to complete.  You must be at least 18 years old to take this questionnaire, live in the state of Texas, identify as LGBTQ+, and have worked at least 1 month since March 2020.  
Please note, in the questionnaire, we will ask for the specific language you use to describe your sex, gender identity, and sexuality identities and experiences. By LGBTQ+, we mean are you a part of queer, trans, and/or intersex communities. Also, work can be part-time, temporary, caregiving, and any form of work. You do not need to be currently employed or a U.S. citizen to complete this survey.

 
10 participants who complete the questionnaire will receive a $10 gift card through a random drawing. Additionally, participants will be asked if they are willing to complete a follow-up Zoom or phone interview (75-90 minutes) and drawing activity (10-minutes). If you are chosen for the interview and drawing activity, all selected interview participants will receive a $40 gift card. We appreciate your consideration to take our questionnaire, participate in a potential interview, and share with your LGBTQ+ Texas friends and networks. 

Please visit this link or follow the QR code on our flyer: bit.ly/LGBTQTexansWork

  

www.TheRiseRegistry.org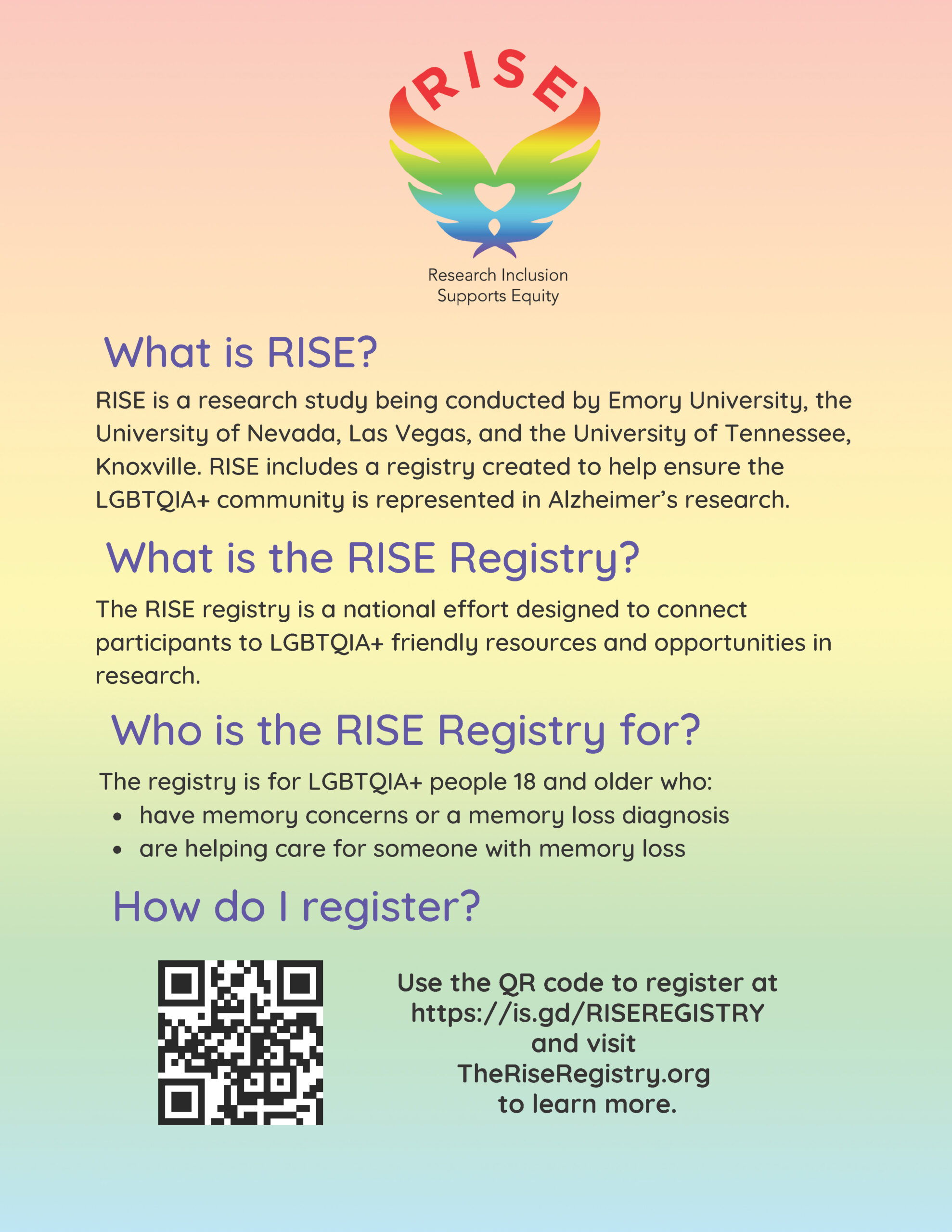 The national organization SAGE will be undertaking a new strategic direction – with a special emphasis on those elders previously left behind.
Check out the Announcements in the current Newsletter (above) for
QWELL events, EMBRACE,
Rainbow Connections ATX, etc
---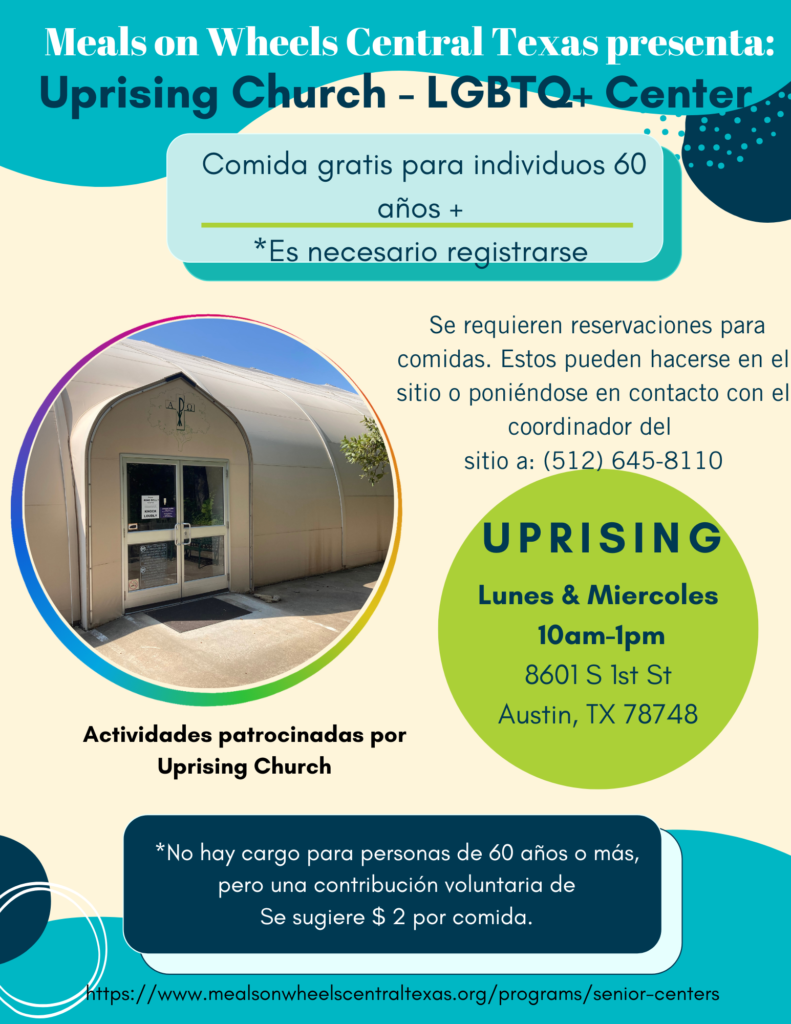 GOLDEN GENERATION
The "Golden Generation" is a group for 60+ LGBTQ seniors and their partners/allies If you are interested in participating send an email to office@uprisingaustin.org and look for instructions by email the first of each week.

More information on the "Golden Generation" is available on our website under the Senior Resources>Austin Resources>Senior Services tab. The website will also be updated with the dates and times for in person meetings if and when that information is available.
---
City of Austin
LGBTQ Quality of Life Study
Click here to download the full Report, titled Priorities for Action, from our website
Click here to download the Travis County Snapshot from the American Communities Survey with interesting demographics (Note: LGBTQ stats were not included in this 2021 survey.)

QWELL is a sister organization to the Coalition on Aging; from the first Townhall Meeting that saw the creation of the ALGBTCOA, we were charged with participating in the development of an LGBTQ Community Center. QWELL, headed up by Clayton Gibson, has been a leader in that effort and in the recent community surveys. Clayton has recently sent an email announcing good news
In 2023, Coalition partner QWELL will:
1. Announce Austin's first LGBTQIA+ Community Center location, which will include affordable housing, restaurant and retail, and clinical spaces for our nonprofit partners.
2. Help more than 70 local medical clinics complete their LGBTQIA+ Healthcare Equality Index certification, massively increasing access to queer-inclusive healthcare in Greater Austin.

3. Engage QTPOC and allies in QWELL's huge Colors of Pride Gathering in June.
4. Distribute thousands more rainbow flags through our FreePrideFlag.com program.
5. Launch our digital tool to help LGBTQIA+ people in Greater Austin find friendly businesses, inclusive healthcare, and each other.
QWELL is accomplishing big things for our local LGBTQIA+ community, but we desperately need your financial support NOW to bring all these things to fruition.
Click here to make your donation to support MASSIVE PROGRESS for LGBTQIA+ people in Greater Austin.
You can also get involved a volunteer for our new Queering event series! Click here to sign up to help.
---
What the Coalition did last year:
---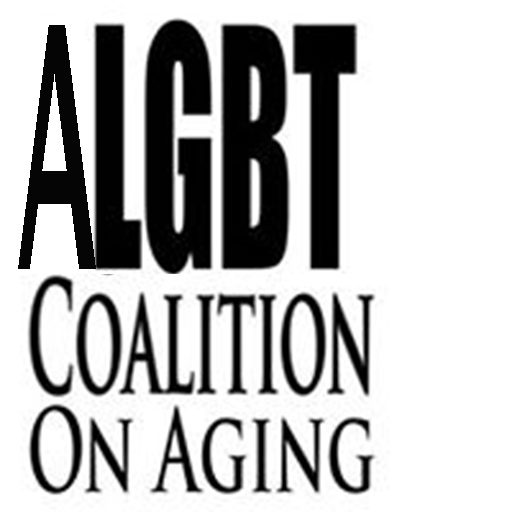 Annual Report 2022
This has been an encouraging year for the Coalition with the addition of some new members to the Steering Committee with all kinds of new ideas and energy. Their enthusiasm along with the generous support of the The Helper Bees resulted in our first participation in Austin's PRIDE parade this year. Part of the original impetus for forming the Coalition several years ago came from a young lady who questioned the lack of input in Austin's Age-Friendly Plan by saying, "we don't all wear little bitty bathing suits and ride on floats you know." We didn't succeed in getting her on the float this year and there weren't a lot of "little bitty bathing suits," but LGBT Seniors were loud and proud for PRIDE!
In addition to having fun we also continued to take care of the business side of an organization, moving from the financial sponsorship of AustinUP to our own bank account and acquiring insurance protection for our governing board. In our meeting this month we established rates for sponsoring organizations and will be welcoming those as we continue to provide advocacy for our community.