State of Texas Health and Human Services

Finding long-term care for yourself or a family member is an important task. While nothing can replace visiting a facility or meeting with a provider in person, the Long-term Care (LTC) Provider Search can help you learn more about these providers and facilities. Click on the link:
Long Term Care Provider Search
______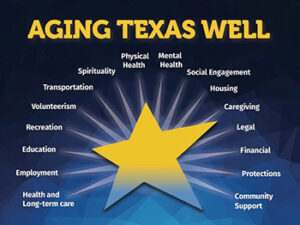 Aging Texas Well is a Texas Health and Human Services initiative that helps Texans prepare for all aspects of aging at both the individual and the community level. Among many other services, Aging Texas Well sponsors a free exercise and fitness program for older adults called Texercise.
click on the links to see what the State of Texas offers
PDF of Texas's Aging Well Plan
---
 City of Austin
Austin Releases More 'User-Friendly' Map Listing Affordable Housing
The City of Austin has released a new comprehensive map of housing for low- and middle-income residents.
The digital map, known as the Affordable Housing Listing, shows an array of income-restricted housing units subsidized or incentivized by the city.
---
Austin Age-Friendly Action Plan:
Executive Summary
The LGBTCOA participates in the various workgroups described in this document
Click the link to download the file:
Age Friendly Austin Action Plan
---