State of Texas Health and Human Services

Finding long-term care for yourself or a family member is an important task. While nothing can replace visiting a facility or meeting with a provider in person, the Long-term Care (LTC) Provider Search can help you learn more about these providers and facilities. Click on the link:
Long Term Care Provider Search
______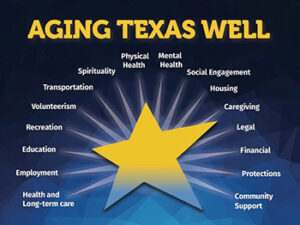 Aging Texas Well is a Texas Health and Human Services initiative that helps Texans prepare for all aspects of aging at both the individual and the community level. Among many other services, Aging Texas Well sponsors a free exercise and fitness program for older adults called Texercise.
click on the links to see what the State of Texas offers
PDF of Texas's Aging Well Plan
---
Medicare Scams
LGBTQ people can fall victim to scams and phony solicitations too. Here's help and info.
Texas Senior Medicare Patrol is an educational reporting agency for Medicare Fraud. Their team works diligently to empower Medicare beneficiaries across the state of Texas to Prevent, Detect and Report fraud. To report Medicare Fraud, call their hotline at 888-341-6187.
Website: Texas Senior Medicare Patrol – Home (texassmp.org)
City of Austin
Austin Releases More 'User-Friendly' Map Listing Affordable Housing
The City of Austin has released a new comprehensive map of housing for low- and middle-income residents.
The digital map, known as the Affordable Housing Listing, shows an array of income-restricted housing units subsidized or incentivized by the city.
---
Austin Age-Friendly Action Plan:
Executive Summary
The LGBTCOA participates in the various workgroups described in this document
Click the link to download the file:
Age Friendly Austin Action Plan
---
---
Same-Sex Partners Can Now Access Social Security Survivor's Benefits
Posted November 4, 2021
In: Press Releases
Huge victory for LGBTQ+ elders as Security Administration (SSA) dismissed appeals of two Lambda Legal cases in favor of equal access to Social Security Survivor's Benefits for same-sex partners [New York, NY] This week, Lambda Legal has announced that the Social Security Administration (SSA) has withdrawn its appeals in two cases on behalf of surviving same-sex partners and spouses whom SSA had previously denied from receiving Social Security Survivor's Benefits. This is a monumental win for LGBTQ+ elders, many who have been forced to live without these crucial and rightful benefits for far too long. For many LGBTQ+ people, including Lambda's clients in Ely v. Saul and Thornton v. Commissioner of Social Security, former discriminatory marriage laws prevented couples from meeting the requirement of being married for 9 months before qualifying for Social Security Survivor's Benefits. Lambda's cases confirmed that denying survivor's benefits to those who were barred from marriage is just as unconstitutional as the underlying marriage bans.
"Many people think that Social Security is merely a safety net, but in reality, it is the primary source of income for most older Americans as they enter retirement, including LGBTQ+ elders," said SAGE CEO Michael Adams. "Being able to access survivor's benefits will make a world of difference to LGBTQ+ older people who have been denied these well-deserved benefits as they age. SAGE applauds the brave individuals and their lawyers at Lambda Legal who fought in court for these tremendous victories."
For those survivors who can show that they would have been married for at least nine months had there been no unconstitutional exclusion, there is now no obstacle for once partnered or married LGBTQ+ people to apply for Social Security Survivor's Benefits – even if their partner died years ago, even if they were never able to marry, even if they were not married for a full 9 months, even if they have never applied before, and even if they've already begun collecting their own retirement benefits.
The agency has been processing many of these claims since the district court rulings last year, but with the end of these appeals, there is a new group of people who can now pursue benefits – namely, surviving partners who have never applied for benefits in the past. We urge LGBTQ+ elders who may be able to pursue these benefits to view Lambda Legal's FAQ for more information.