Testing Sites in Austin at bottom of page
Austin – Travis County
COVID-19 Dashboard Public Datasets
https://atc-covid19data-austin.hub.arcgis.com/
The Administration for Community Living
has sent out guidelines that provide guidance for respite care agencies and other respite providers who are planning to resume services. It includes strategies to family caregivers and providers on providing and receiving respite care as safely as possible during COVID-19.
Here's the link:  https://archrespite.org/national-respite-guidelines-for-covid-19.
---
Texas Provides Guidance for Nursing Facilities : Current Guidance Addresses Infection Control Recommendations
AUSTIN – Texas Health and Human Services is releasing current guidance to nursing facilities across the state on how to respond in the event of a presumptive or confirmed case of COVID-19.
This current guidance – COVID-19 Response for Long-term Care Facilities – includes an overview of information provided to nursing facilities and highlights requirements and recommendations to protect resident health and safety. The guidance applies when a facility becomes aware of the infection of a resident, staff member, or visitor.
"We hope this information will help the providers we regulate respond as effectively as they can to COVID-19, as we fully understand they are confronting an unprecedented situation," said David Kostroun, Deputy Executive Commissioner of the Texas HHS Regulatory Services division. "This detailed guidance spells out the immediate, short-term and longer-term steps a facility should take to help contain the spread of the virus, including protocols for infection control, isolation of residents, and the use of personal protective equipment. This plan reflects our ongoing commitment to give providers the information they need to protect the vulnerable people they serve."
A result of interagency collaboration among HHS, the Department of State Health Services and the Texas Division of Emergency Management, this current guidance is posted on the Texas HHS website here:
https://hhs.texas.gov/doing-business-hhs/provider-portals/long-term-care-providers/nursing-facilities-nf
The guidance is a living document that will be updated frequently as new guidance is provided, so facilities are urged to check this page regularly.
Long-term care facilities are reminded they must notify HHS and their local health authorities of any presumptive or confirmed case of COVID-19 for a resident or staff. An HHS survey team then actively investigates to assess the facility's compliance with all relevant health and safety rules, including those requiring it to follow proper infection control practices.
All long-term care facilities where COVID-19 has been detected also must follow all CDC and Texas DSHS guidelines for infection control, including appropriate use of isolation and personal protective equipment for staff and residents, to protect health and safety. Guidance for facilities also includes working closely with local health officials.
More information is available at hhs.texas.gov. Texas residents can dial 2-1-1 to learn about programs and services.
Coronavirus Testing Sites in Austin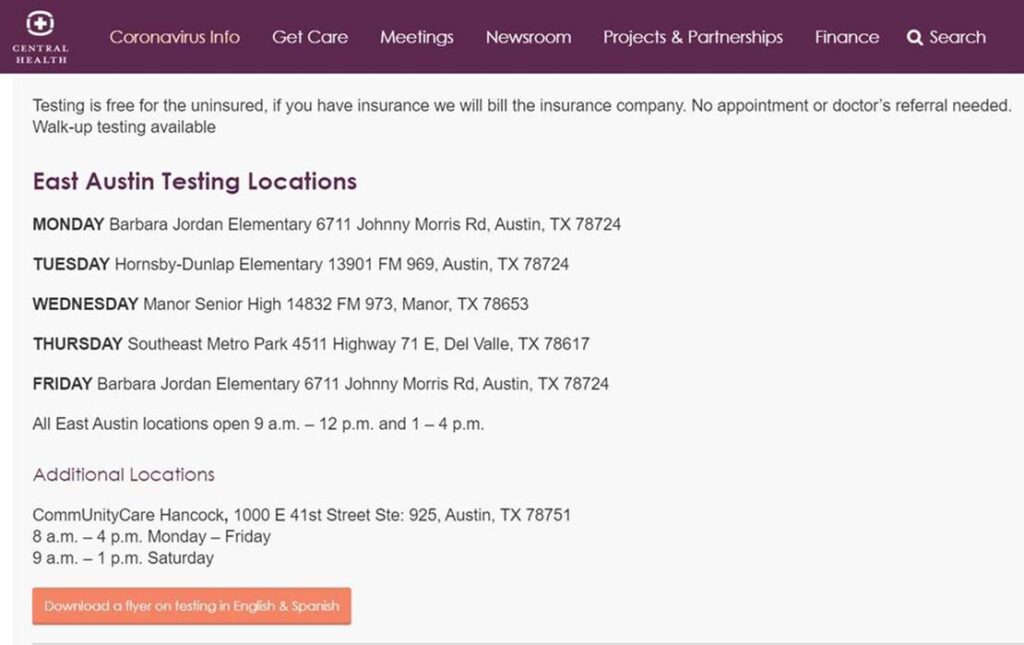 City of Austin announces at-home testing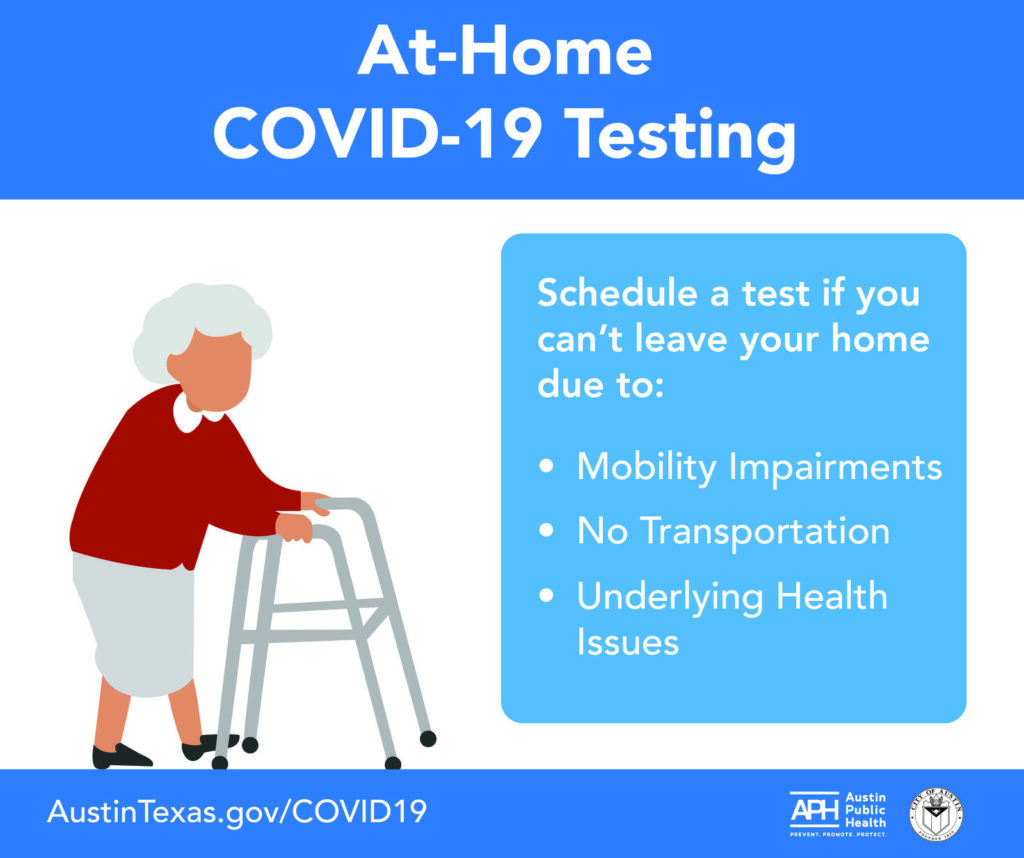 At-Home Testing. At-home #COVID19 testing is available! ? If you can't leave your home due to mobility impairments, are considered to be at high-risk of developing severe symptoms with or don't have transportation, you can schedule a test. We come to you! Call (512) 972-5560.
¡La prueba del #COVID19 en casa ya está disponible! ? Si no puede salir de su casa debido a problemas de movilidad, problemas de salud subyacentes o no tiene transportación, puede programar una prueba. ¡Nosotros venimos a ti! Llame al (512) 972-5560.
______
VACCINE TRIALS IN AUSTIN
Benchmark Research – COVID-19 Vaccine Press Release
Benchmark Research is looking for volunteers to participate in investigational COVID-19 vaccine trials taking place at their Austin clinical research center. The current global pandemic of the coronavirus disease COVID-19 has pushed vaccine research to the forefront. This trial will study the safety and efficacy of the Moderna investigational vaccine designed to prevent COVID-19 infection.
Participants must meet specific criteria in order to be considered for the trial. Some examples of requirements for this study:
Generally healthy adults, age 18 and older
Must not have had COVID-19 infection
Women must not be pregnant, or currently breastfeeding
It is not required that you have health insurance in order to participate in a trial. Those that qualify and enroll in a trial will be paid compensation for their participation.
Benchmark Research has conducted over 380 vaccine trials; including trials for the H1N1 influenza vaccine during the 2009 H1N1 pandemic, as well as Ebola Virus vaccine trials in 2014 during the Ebola Virus Epidemic. We have enrolled over 28,000 participants in these trials, which has made a huge impact on vaccine development and the future health of our communities.
If you are interested in potentially participating in joining a research study with Benchmark Research, please contact our call center at 888-902-9605.

Press Release contributed by Mark Lacy of Benchmark Research, a member of the Austin Coalition on Aging

https://benchmarkresearch.net/