Help with Housing
Housing is one of the traditional issues for seniors. The Coronavirus pandemic has made it even worse this past year. Here's some info about getting help in this time of crisis.
If you lost income due to the pandemic and your rent is going up, you can submit an application for City of Austin RENT (Relief for Emergency Needs of Tenants) to help mitigate the increase.
City of Austin RENT
https://austintexas.gov/rent
Travis County has a program too
Travis County Emergency Rent Assistance
https://www.traviscountytx.gov/health-human-services/individuals-families/apply
And the State of Texas
These programs may be temporarily closed. Please check back later, if so.
You can only receive assistance from one program – no duplication of benefits! – however you can apply to two or more to see which one responds first. City of Austin RENT has been churning applications in about three weeks.
In the medium-term / long-term, you may qualify for affordable housing. (This probably also means downsizing.) City of Austin SMART Housing is for households at 30%, 60% and 80% of Area Median Income.
https://www.austintexas.gov/department/housing
---
---
Map
Austin Releases More 'User-Friendly' Map Listing Affordable Housing
The City of Austin has released a new comprehensive map of housing for low- and middle-income residents.
The digital map, known as the Affordable Housing Listing, shows an array of income-restricted housing units subsidized or incentivized by the city.
---
---

Austin Family Eldercare has a program for
Gay and Lesbian elders called AGLSS.
Family Eldercare works with a number of publicly-funded or subsidized residential facilities. AGLSS is therefore able to see and assess LGBTQ-friendliness. We will be updating info about these programs.
Established in 2012, AGLSS was provides aging services and resources for our LGBTQ+ community, ensuring that no one has to age alone. Through the support and foundation of the Bettie Naylor fund, these services are extended to the economically challenged as well. AGLSS, incorporated throughout our entire mission, is here to help you find the best care solution for your family, including benefits and insurance processing.
In 2014, Family Eldercare developed an LGBT and Aging Resource Guide. A new edition is in the works. In the meantime, here's a link to download the earlier edition. LGBT and Aging Resource Guide – 2014
Older adults are an invaluable community resource, waiting to be tapped.
Our vision is to create a region that responds to aging as a dynamic rather than a stagnant force. We are all aging, all the time. And we want to make Central Texas a place that supports each of us,at every age.
Because our community is changing – and it's not just how you think.
---
North Texas Senior Housing Guide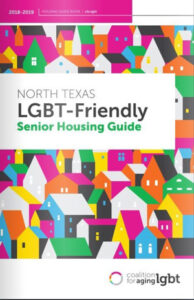 The Dallas-Fort Worth-based Coalition on Aging has produced a Guidebook to LGBT-Friendly Senior Housing, listing various facilities that meet up to LGBTQ senior expectations. While these facilities are in North Texas, the Guidebook is a good example of what can be done to assist our population in finding the right services for us.
---
Projects in progress
---

Senior Co-Housing
A Senior Housing Project is being developed in Buda called Kindred Uncommon (previously called Cantina). The organizers of the project are members of the Austin LGBTQ community and invite our interest in their project. If you want to learn more about Kindred Uncommon, here's a link to an article in the Senior Resource Guide about Cantina titled A New Model of Active Adult Senior Living is Coming to the Austin Area.
https://srgserv.com/industry/cantinacommunities/
And here's a link to their website with artist renderings of the project
https://kindreduncommon.com
---
Project Transitions
dedicated to serving people with HIV and AIDS by providing housing, comprehensive support services, recuperative care and hospice in compassionate and caring environments.
Every person living with HIV deserves compassionate care and a place to call home.
---
Affordable Housing for LGBTQ Seniors — updated to Dec 2020
Shelterforce website publishes new information about LBGTQ housiong projects across the country. Click here…
---
Dallas Resource Center plans senior housing
Plans underway for LGBTQ Senior Housing
---